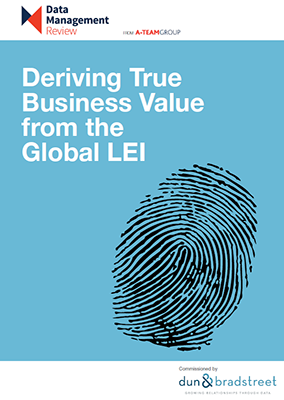 Deriving True Business Value from the Global LEI
The Legal Entity Identifier (LEI) – the free-to-use entity identifier – has established itself as a viable standard for helping financial institutions identify unique business entities that are parties to financial transactions. But it's widely accepted to have its limitations. In particular, a lack of standardization and ability to link to associated data sets is hampering its usefulness.
Indeed, this lack of linkages – to associated third-party data, corporate hierarchies and beneficial ownership information – hampers the ability to see a consistent consolidated view across parties, resulting in major repercussions on a firm's ability to raise and use capital, and indeed comply with emerging regulations.
This whitepaper sponsored by Dun and Bradstreet discusses:
What's needed to deliver on the promise of an entity-centric view of enterprise data in one place.
How firms can use independent data sources to augment the LEI and meet their entity data needs.
How firms can meet their regulatory obligations while at the same time enjoy true business benefits in terms of improved risk management and better customer service.