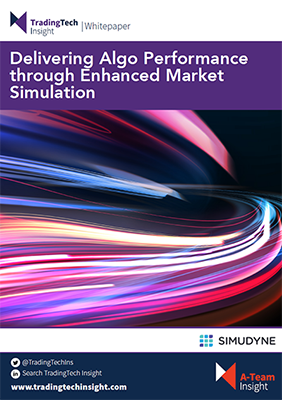 Delivering Algo Performance through Enhanced Market Simulation
The global shift toward unbundling of research services from execution is forcing sell-side institutions to focus on differentiating their service offerings as they vie for buy-side liquidity in an increasingly competitive marketplace. With soft-commissioned research and high-speed connectivity to trading venues no longer potent as differentiators, the sell side is acknowledging that the quality and performance of trading strategies and algorithmic models is key to attracting and retaining client order flow.
Achieving competitive performance levels requires rigorous testing and performance evaluation on realistic market data. Yet firms face a raft of obstacles and technical challenges that can restrict their ability to qualify for inclusion in the 'algo wheels' operated by their clients: the lists of preferred (and approved) broker trading strategies they are able to use.
Download this exclusive whitepaper to:
Evaluate current challenges around trade execution and algo testing in simulated market environments;
Explore how to improve your algo models and attract order flow using advanced market simulation;
Learn how sell-side executives in algo trading are optimising algorithms to attract and retain buy-side liquidity using advanced market simulations;
Understand the changing landscape and why you need to optimise the performance of your trading strategies to remain competitive;
Identify new approaches in simulation techniques;
Evaluate a new approach to developing a highly granular, dynamic representation of the markets using agent-based simulation (ABS) techniques to optimise execution system performance.
This whitepaper is based on a detailed primary survey of sell-side executives directly involved in algo trading.