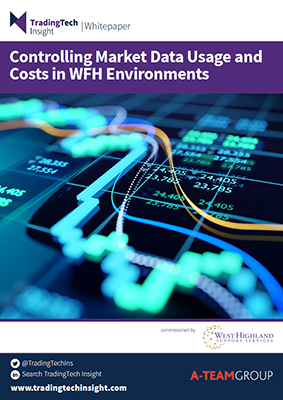 Controlling Market Data Usage and Costs in WFH Environments
The Covid-19 pandemic has transformed the way financial services firms operate: with staff dispersed across numerous alternative sites or working from home, and many still requiring access to fee-liable market data and other financial information services in order to function. Data managers are struggling to control access to this data – facing the risk of overpaying for duplicate or unused licenses or, on the flip side, falling into the non-compliance trap as practices such as password-sharing risk breaching their license agreements.
With market data one of the biggest single item costs after HR, understanding and optimising these liabilities is crucial in order to remain in compliance with data contracts, simplify data usage, and prepare for potential audits. Consequences run from unexpected fees at best, or audit and/or vendor penalties at worse. So how can you create measurable control over employee access to web-based financial information?
Download this white paper to:
Understand how contractual rights management can help you to streamline your data contracts and more effectively manage your data services;
Explore how commercially supplied data sets can be consumed and reorganised within a financial institution;
Learn about the importance of data lineage in tracing and data licenses;
Discover how to ensure effective control over market data usage to support real-time cost control and compliance.