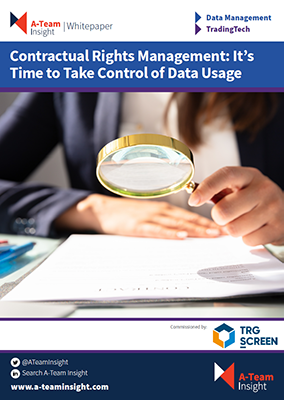 Contractual Rights Management: It's Time to Take Control of Data Usage
Contractual rights management has become a hot topic in financial information and market data circles following a number of public instances involving high-profile financial institutions breaching licensing agreements with data vendors – and paying the price with both significant financial penalties and damaged reputations. A potential solution for contractual rights management is the emerging Open Digital Rights Language (ODRL), but it only solves part of the problem.
If your organisation's use of licensed vendor data is open to question, or if you need to improve management of the data, this white paper is a must read.
Download the white paper to:
Understand the state of play on contractual rights management
Discover why it has become a major problem at financial institutions
Evaluate your firm's use (or misuse) of licensed vendor data
Find solutions to help your firm comply with vendor licensing agreements