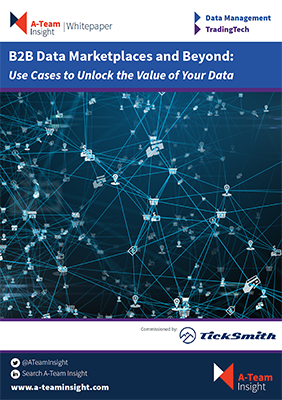 B2B Data Marketplaces and Beyond
Financial institutions and corporations often generate huge quantities of data as a by product of their core activities. This data – details of historical transactions, customer interactions and metadata for referring to instruments, counterparties or entities – can provide valuable insights for industry participants, and form the basis of a meaningful data sales business. But many organizations are failing to capitalize on the opportunity to monetize their valuable datasets, often due to lack of expertise and resource or the fact that data owners simply don't realize the value of the data they hold.
With the world becoming more 'data-driven', demand is growing for the unique insight that these datasets can offer. Taking a cue from consumer markets, corporations across the board are adding new datasets to their analysis of industry segments, driving demand for data that can help identify new ways of looking at things.
Increasingly, organizations that produce data are seeking to take advantage of this emerging demand by putting in place a viable data sales strategy as well as a sales organization to bring new datasets to market. By adopting new 'marketplace' technologies, firms that own valuable datasets are able to monetize the information and analysis they produce, no matter the level of maturity or sophistication of their data sales processes.
This white paper outlines the commercial and technological challenges facing firms seeking to package and monetize their valuable datasets, and offers a series of potential use-cases that illustrate how emerging technologies can be deployed by firms at various points in their journey toward putting in place a fully functioning and commercially viable data production, sales and distribution mechanism.
Download the white paper to find out more about:
Types of data generated as a by product of core activities
Potential value of this data for market participants
How firms can monetize the data using a data sales strategy
The role of a 'marketplace' approach in monetization
Technology use cases for data production, sales and distribution