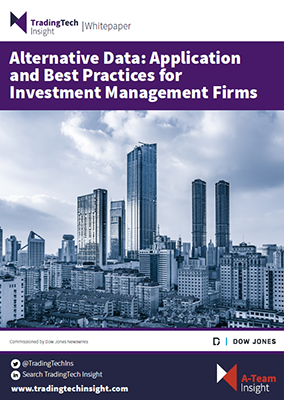 Alternative Data: Application and Best Practices for Investment Management Firms
Listen to the related webinar here.
Knowledge is money in capital markets and alternative data is fast becoming part of that knowledge, but it is not always easy to source, evaluate, integrate and use to best effect.
The data may be incomplete, unstructured, include data that isn't permitted for redistribution under privacy laws, and have limited or no archive available for back-testing. That said, alternative data holds great promise for investment managers looking for new opportunities, whether in immediate trading scenarios or more contemplative approaches to long-term portfolio strategy.
While the challenges of adopting and applying alternative data successfully are considerable, investment managers can take proactive steps to exploit the opportunities presented by the data.
This white paper defines alternative data, discusses its use cases, considers obstacles to adoption, and presents best practice approaches to using the data. Alternative data may be a stretch for some firms at the moment, but it will become a critical element of investment management over time.
Download the white paper to find out more about:
Why you should be investing in alternative data
Use cases of the data in financial markets
The challenges of adoption and integration
Steps you can take to overcome these challenges
How to exploit the opportunities of alternative data