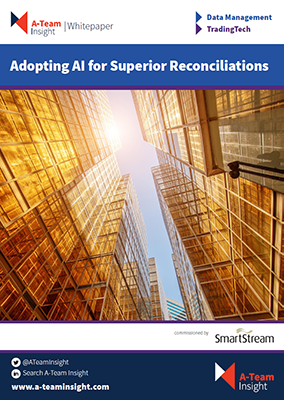 Adopting AI for Superior Reconciliations
Firms' reconciliation and exceptions management processes are manually intensive, expensive and prone to error. With rising compliance costs and greater competition narrowing margins in financial services, firms are looking to streamline their reconciliations processes through automation, giving them the opportunity to reduce the number of exceptions they manage and the time it takes to deal with them.
Financial institutions are adopting emerging technologies like Artificial Intelligence (AI) and Machine Learning (ML) in an attempt to automate processes and activities that previously required human intervention. Through automation of their reconciliations, firms are seeing an opportunity to reduce operational risk and boost their overall financial position, both in terms of reduced losses and regulatory capital. How can firms embrace AI to modernize their reconciliation processes for a better operational and financial outcome?
Download this white paper to:
Understand the current state of play of reconciliations and exception management processes
Gauge the opportunity for the adoption of AI and ML in the reconciliation process
Explore what's needed to streamline exception management and reduce human intervention
Evaluate how a new AI-based initiative can help improve firms' reconciliation processes in terms of speed, accuracy and cost.