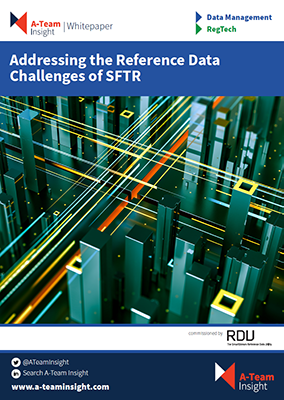 Addressing the Reference Data Challenges of SFTR
The EU's Securities Financing Transactions Regulation (SFTR), which comes into effect in April 2020, is a data-heavy transaction reporting regulation along the lines of MiFIR and EMIR, but has a significant reference data element as well. The regulation is extensive, with some 150 data fields in its mandatory regulatory reports, a dozen of which will require access to high-quality reference and descriptive data, with the potential to cause issues from a data sourcing and data management standpoint.
So, what will SFTR require? How can practitioners tackle the reference data challenge that SFTR presents?
Download this whitepaper to understand:
The requirements of SFTR, with specific focus on reference data
The challenges involved in populating key SFTR report fields
Potential solutions to those challenges
How a database for SFTR can alleviate the complexity surrounding the regulation.