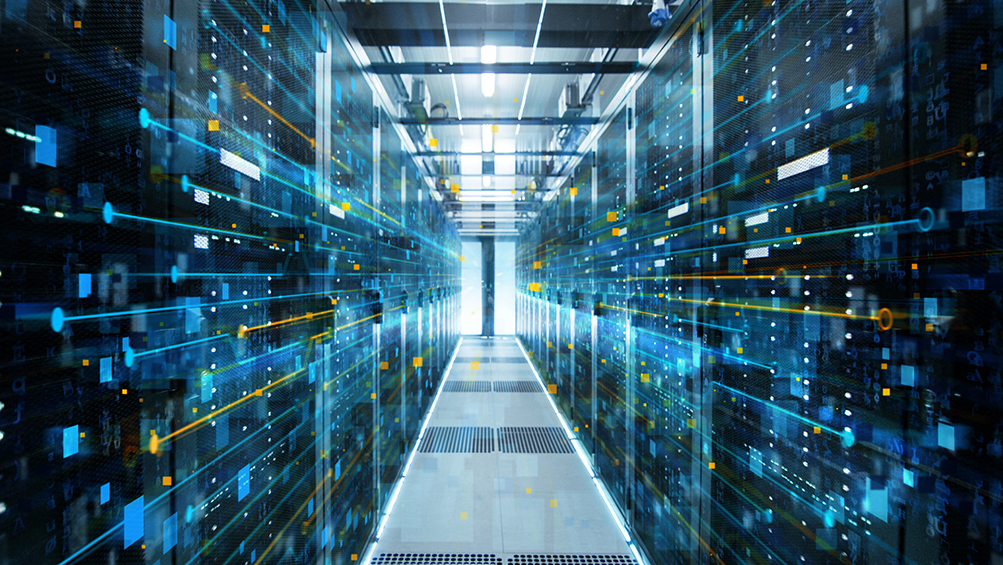 Bloomberg's new London HQ, which opened last year on the site of the old Bucklersbury House between Cannon Street and Bank station, has been lauded by pundits for its innovative and appealing architectural and ergonomic design. Gone are the tanks of piranhas (at least we didn't see any when we were there) in favour of a sweeping panorama of a mezzanine level with adjoining meeting spaces straight out of a textbook on co-worker collaboration. The message is modern, friendly, fun, Googlesque.
But it transpires the Bloomberg campus is more than just a pretty face. Belying the superficial beauty is a brutally practical reality: the brand new London offices are built around a brand new Bloomberg data centre.
Bloomberg has designed its London site to accommodate a new data centre in support of its broadcast operations – yes, Bloomberg TV. But this highly targeted implementation may offer a glimpse of what's to come should Bloomberg – as expected – roll out this state-of-the-art design across the data centres supporting its core market data, analytics and trading platform business worldwide.
The London relocation from various offices across the City gave Bloomberg a greenfield opportunity to design a new data centre from the ground up that fully suited its requirements and gave it the flexibility to add capabilities as its roadmap required. As a result, Bloomberg was able to leap forward in its data centre design, jumping a couple of notches toward the nirvana of self-operation powered by so-called intent-based data centre capabilities from Apstra, a California-based specialist in data centre management technologies founded in 2014 and funded by David Cheriton, a Stanford University professor and early investor in Google, VMware and Arista.
As data centre design aficionados will be aware, the past has seen the evolution of data centres from legacy 1990s implementation based on mainframes and characterised by north-south messaging traffic, through virtualisation and server commoditisation, the adoption of SDN and so-called leaf-spine architectures and finally to modern data centres based on SDDC and characterised by microservices and containers. This final iteration holds the promise of self-operation, with automated processes constantly monitoring workloads and performance with a view to ensuring that the data centre operates as it was intended to do – the intent-based approach Apstra espouses.
Bloomberg TV's new London data centre is large in scale. It supports production of eight hours of live television and four hours of live radio programming daily, connecting a central studio with three other broadcasting positions within the building, as well as two recording studios, a photography studio, three control rooms and all of Bloomberg TV's production equipment. The IP data network has more than 90 network nodes, 400 40GbE network fabric links, 4,000 network ports and 2,000 live network endpoints.
The details of the data centre were unveiled at a press briefing hosted by Apstra this week in the swanky NED Hotel close to Bank station, where suits and (wannabe) rock stars shared the lifts to the higher levels. The NED has become something of a Mecca for City denizens in search of places to meet now that the Royal Exchange has implemented its own kind of Brexit and all but banished coffee drinkers from the former trading floor.
Unveiling the Bloomberg gig as a major new use-case for his company, Apstra CEO Mansour Karam described Bloomberg's requirements in design and operation of the new data centre. In terms of design, Karam says, Bloomberg needed to be able to manage a complex network infrastructure, it needed high (continuous and real-time) visibility of network performance, and it needed to predict and prevent disruption in real time. From an operational standpoint, it needed simplified operational capability from Day 1 of implementation and the agility to accommodate change going forward.
Bloomberg was also a multi-vendor implementation, Karam says, making Apstra's vendor-agnostic solution appropriate. Without detailing Bloomberg's specific vendor choices, Apstra says it works with a range of suppliers, offering clients a choice of hardware (Arista, Cisco, Dell, Juniper, Mellanox and others), switch operating system (OpenSwitch, Sonic, Cisco, Arista, Cumulus, Junos and others), workload management tools (VMware, Kubernetes), and cloud hosting (Amazon Web Services, Microsoft Azure).
Working with Bloomberg's architects starting in 2016 – a group of "like-minded innovators," according to Karam – Apstra developed a three-pronged approach to the data centre management challenge, involving network discovery (as it had to work with Bloomberg's existing distribution networks), and the use of off-box agents and intent-based network probes for monitoring performance and identifying potential problems.
For Bloomberg, Apstra says, the approach can yield three main benefits: Greater reliability of application running within the data centre; simplified, automated deployment and operation; and lower costs both in CapEx and OpEx terms. Tony Lott, global head of capital projects for Bloomberg's IT infrastructure team, echoes this: "Apstra's system gives us a single view into the entire media production network – regardless of our devices, switches, operating systems or vendors. It has enabled us to gain the Day 2 operational efficiency needed to manage and sustain the complex network infrastructure in our cutting-edge media production facility."
Apstra wouldn't be drawn on next phases of the Bloomberg implementation, although it does confirm that the Bloomberg TV was the first step in what promises to be a wider rollout. It won't discuss specifics but says "Apstra's technology is applicable to all verticals, business units and use cases."
Whether London's Bloomberg approach) – the cohabiting of data centres with core business activities – becomes blueprint (for financial markets, at least) remains to be seen. But as Apstra CMO Mark Wood put it: "What we're seeing is the end of the data centre, and the emergence of centres of data."