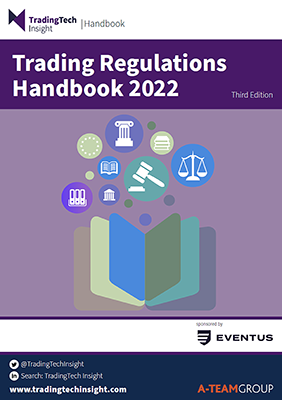 Trading Regulations Handbook 2022
Welcome to the third edition of A-Team Group's Trading Regulations Handbook, a publication designed to help you gain a full understanding of regulations that have an impact on your trading operations, data and technology.
The handbook provides details of each regulation and its requirements, as well as 'at-a-glance' summaries, regulatory timelines and compliance deadlines, and links to original texts. It also provides an outlook of potential regulatory change and a handy glossary of key terms.
Download the handbook to access:
Detailed descriptions of global trading regulations and requirements
The impact of these regulations on trading operations, data and technology
Regulatory timelines and compliance deadlines
An outlook for the trading regulations landscape
Vendor solutions supporting regulatory compliance
Regulations covered include:
Alternative Investment Fund Management Directive (AIFMD)
BCBS 239
Benchmarks Regulation
CFTC Rules 1.73 and 1.74
CFTC Derivatives Margin
Digital Assets Regulations
Dodd-Frank Act
Dodd-Frank Volcker Rule
European Market Infrastructure Regulation (EMIR) & EMIR Refit
FIDLEG
Financial Market Infrastructure Act
Fundamental Review of the Trading Book (FRTB)
ISDA Master Agreement
Margin Requirements for Non-Centrally Cleared Derivatives
Market Abuse Regulation (MAR)
Markets in Financial Instruments Directive II (MiFID II)
Markets in Financial Instruments Regulation (MiFIR)
MAS OTC Derivatives Reporting
SEC Rule 613 Consolidated Audit Trail
SEC Swaps Reporting Regime
Securities Financing Transactions Regulation (SFTR)
Senior Managers & Certification Regime (SMCR)
If you are interested in sponsoring or advertising in one of our handbooks, suppliers guides or special reports, please get in touch with us.