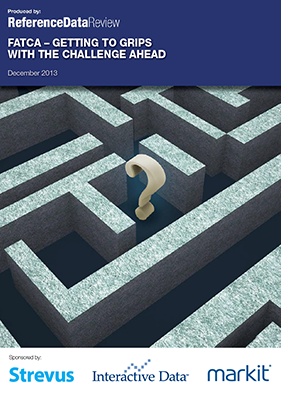 Fatca – Getting to Grips with the Challenge Ahead
The industry breathed a sigh of relief when the deadline for reporting under the US Foreign Account Tax Compliance Act (Fatca) was pushed back to July 1, 2014. But what's starting to look like perhaps the most significant regulation of the next 12 months may start to impact our marketplace sooner than we think, especially for those firms that have only just started embarking on their Fatca compliance programs.
Much work still needs to be done, with the deadline for full compliance set for December 31, 2014. Financial institutions have a lot to do between now and then in order to bring their Fatca solutions up to speed. But what's the requirement in data terms, and what steps should firms be taking now to meet the challenge of the coming 12 months?
If you are interested in sponsoring or advertising in one of our handbooks, suppliers guides or special reports, please get in touch with us.