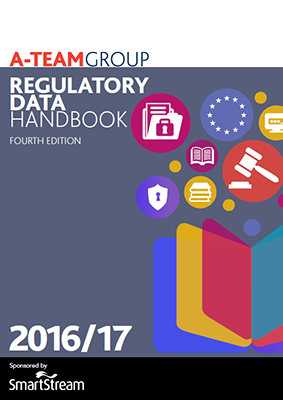 Regulatory Data Handbook – Fourth Edition
Need to know all the essentials about the regulations impacting data management?
Welcome to the Fourth edition of our A-Team Regulatory Data Handbook which provides all the essentials about regulations impacting data management.
A-Team's series of Regulatory Data Handbooks are a great way to see at-a-glance:
All the regulations that are impacting data management today
A description of each regulation
The impact each will have from a data and data management perspective
Messages from sponsors with products related to the regulations
Regulations covered in the Regulatory Data Handbook include:
AIFMD
Basel III
BCBS 239
BCBS/IOSCO
Benchmark regulation
Brexit (NEW)
CCAR
CFTC Rules 1.73 and 1.74
Corep
CRD IV – fourth capital requirements directive
Dodd-Frank
EMIR & EMIR2
EU 4th Anti-Money Laundering Directive (NEW)
EU General Data Protection Regulation (GDPR) (NEW)
EU NIS Directive (NEW)
EU Securities Financing Transactions Regulations (SFTR) (NEW)
Fatca and Gatca
Finrep
Fundamental Review of the Trading Book (FRTB) (NEW)
IFRS
IRS Section 871 (m) (NEW)
KYC
MAR (NEW) (MAD)
MiFID II
MiFIR
SEC Form PF
Solvency II
UCITS V
If you are interested in sponsoring or advertising in one of our handbooks, suppliers guides or special reports, please get in touch with us.