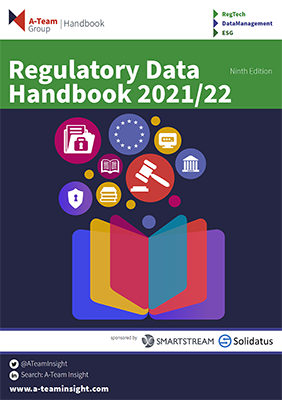 Regulatory Data Handbook 2021/2022 – Ninth Edition
Welcome to the ninth edition of A-Team Group's Regulatory Data Handbook, a publication dedicated to helping you gain a full understanding of regulations related to your organisation from the details of requirements to best practice implementation.
This edition of the handbook includes a focus on regulations being rolled out to bring order and standardisation to environmental, social and governance (ESG) investment. It also takes a wider geographic view of the regulatory landscape than previous editions, adding key regulations in the Asia Pacific jurisdictions of Hong Kong, Singapore and Australia, and covers the post-Brexit UK regulatory regime.
Download the handbook to access:
A detailed description of global regulations and their impact on capital markets' data management practices
Timelines, data and data management implications, and links to original regulatory text and other useful publications for every regulation
An outlook for the regulatory landscape driven by collaboration between regulators and capital markets participants
Vendor solutions providing efficient regulatory compliance solutions
Regulations covered include:
AIFMD
AMLD6
AnaCredit
Basel IV
BCBS 239
EU Benchmarks Regulation
CCAR
COREP
CTA – Corporate Transparency Act (US)
CRD IV/V
CRR II – Second Capital Requirements Regulation (EU)
CSDR
DCG – Data Collection Gateway (MAS)
DCS – Data Collection Solution (APRA)
Dodd-Frank
EMIR and EMIR Refit
ESG Regulation
FATCA and GATCA
FINREP
FRTB
GDPR
Granular Data Repository (HKMA)
IFD/IFR
IFRS
KYC
Low Carbon Benchmark Regulation (EU)
MAR
Margin Rules
MiFID II
MiFIR
Money Market Funds
NFRD – Non-Financial Reporting Directive (EU)
NIS
PRIIPs
SEC CAT
SEC Forms N-PORT and N-CEN
SEC Form PF
SEC Rules 15c3-1, SEC 15c3-3, SEC 17a-5
SEC Rule 22e-4
Section 871(m)
SFDR – Sustainable Finance Disclosure Regulation (EU)
SFTR
SMCR
Solvency II
SRD II
Taxonomy Regulation (EU)
UCITS
If you are interested in sponsoring or advertising in one of our handbooks, suppliers guides or special reports, please get in touch with us.