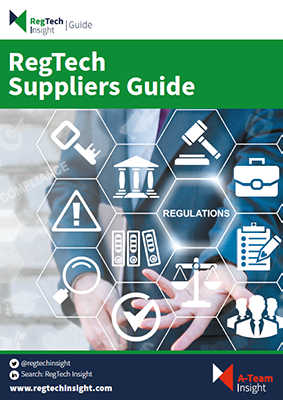 RegTech Suppliers Guide 2019
Welcome to our brand new RegTech Suppliers Guide.
This unique guide provides detailed data profiles on close to 100 suppliers in the RegTech world, offering you an unrivalled selection of solutions for your most pressing financial regulatory challenges.
The aim of the A-Team's RegTech Suppliers Guide is to steer you through this complex marketplace, offering an invaluable cross-reference for you to source potential solutions that match your unique and specific requirements.
Not only is each company listed in detail alphabetically but this handy guide is also divided for easy reference in these useful splits:
Solutions by Regulation
Solutions by Function
Solutions by Location
Solutions by Target Firm Type
Solutions by Size of Financial Institution
And statistics of interest in an engaging visual guide
This data was provided by the suppliers themselves and has not been externally verified, so please use this tool as an opportunity to evaluate the possibilities and establish your desired direction, so you can delve deeper into your options using your own due diligence process.
If your company is not listed, but you believe it should be, you can let us know by clicking here and we will be sure to notify you next time we plan to update the guide.
If you are interested in sponsoring or advertising in one of our handbooks, suppliers guides or special reports, please get in touch with us.