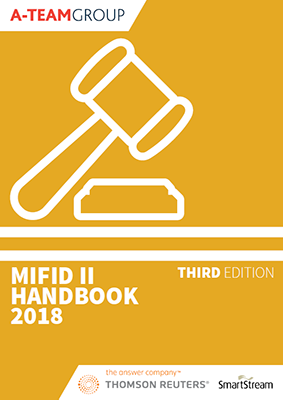 MiFID II handbook, third edition – How compliant are you?
Six months after Markets in Financial Instruments Directive II (MiFID II) went live, how compliant is your organisation?
If you took a tactical approach to cross the compliance line on January 3, 2018, how are you reviewing and renewing systems to take a more strategic approach and what are the business benefits of doing so?
And how well is your organisation managing requirements that have come into play since go live, such as double volume caps and best execution reporting? What about the forthcoming mandate to use Legal Entity Identifiers in all transactions? Or the determination of systematic internalisers (SIs) that will formalise the SI regime later this year?
The third edition of A-Team Group's MiFID II handbook examines all these issues and provides a detailed guide to the data and technology aspects of the regulation. It builds on previous editions with additional material on requirements from research unbundling to timestamping and clock synchronisation.
It also discusses the cracks that are beginning to show in MiFID II and accompanying Markets in Financial Instruments Regulation (MiFIR), and the need for additional regulatory guidance to help organisations achieve full compliance, as well as regulatory interventions to make sure MiFID II delivers on its foundational aims of market transparency and investor protection.
Download this third edition of the MiFID II handbook to find out more about:
What happened on Day 1 and in subsequent months
How the regulation is working in practice for firms within its scope
Data sourcing and management issues in the MiFID II world
Pain points around trade transparency and transaction reporting
How to approach oncoming regulatory requirements
The need for additional regulatory guidance and intervention
Benefits your organisation can gain from a strategic approach to compliance
If you are interested in sponsoring or advertising in one of our handbooks, suppliers guides or special reports, please get in touch with us.