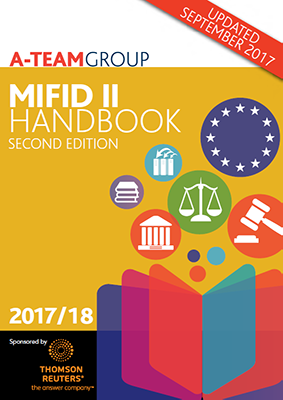 MiFID II Handbook – Second Edition
With the compliance deadline for Markets in Financial Instruments Directive II (MiFID II) just over two months away, A-Team Group has updated its MiFID II handbook to bring you the latest details on the regulation's compliance requirements.
Version 2 of the handbook, commissioned by Thomson Reuters, also includes new sections covering data sourcing and data quality for MiFID II, and the regulation's extended communications recording requirements. An additional technology solutions chapter matches the regulation's key provisions with technology options, and a glossary will help you navigate the terms used in the regulation.
Read Version 2 of the MiFID II handbook to find out more about:
The regulatory requirement
Market structure and trading venues
Trading infrastructure
Trade transparency and transaction reporting
Reference and market data management
Operational approaches
Technology solutions
If you are interested in sponsoring or advertising in one of our handbooks, suppliers guides or special reports, please get in touch with us.