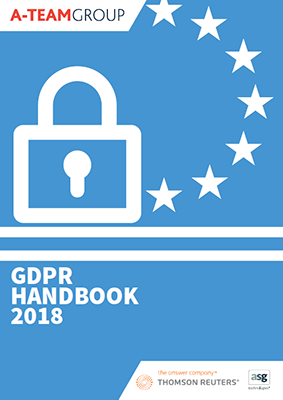 GDPR Handbook
The May 25, 2018 compliance deadline of General Data Protection Regulation (GDPR) is approaching fast, requiring financial institutions to understand what personal data they hold, why they process it, and whether it is shared with other organisations. In line with individuals' rights under the regulation, they must also provide access to individuals' personal data and be ready to change, delete or explain its use.
The A-Team Group GDPR Handbook provides comprehensive coverage of GDPR, including an overview of the regulation, the challenges and solutions it presents, and the data management response to the eight rights individuals can bring into play around their personal data. It also covers the role of the data protection officer, data protection by design and default, and the astronomic fines and penalties of non-compliance. A glimpse into the future touches on the benefits data controllers and data subjects should gain from successful implementation of the regulation.
Download the handbook to find out more about:
GDPR requirements
Challenges and solutions
Data management response
Role of the data protection officer
Penalties and fines of non-compliance
If you are interested in sponsoring or advertising in one of our handbooks, suppliers guides or special reports, please get in touch with us.