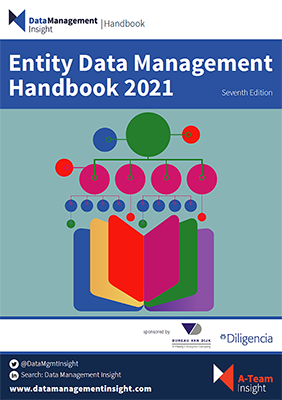 Entity Data Management Handbook – Seventh Edition
Sourcing entity data and ensuring efficient and effective entity data management is a challenge for many financial institutions as volumes of data rise, more regulations require entity data in reporting, and the fight again financial crime is escalated by bad actors using increasingly sophisticated techniques to attack processes and systems.
That said, based on best practice and well executed, entity data management can help firms drive down financial crime and at the same time improve customer experience, gain a clear understanding of 'good' and 'bad' customers, and unlock the value of customer data to identify potential business opportunities.
This year's Entity Data Management Handbook is sponsored by Bureau van Dijk, a Moody's company, and Diligencia. It is designed to give you all the information you need to take on the challenges of entity data management and deliver benefits across the business.
Download the handbook to find out more about:
Entity data from simple identifiers to complex ultimate beneficial ownership
Operational and business use cases of entity data and their outcomes
Technologies, tools and techniques to improve entity data quality
How to select platforms that best fit your entity data management
Regulations requiring the inclusion of entity data in reporting
If you are interested in sponsoring or advertising in one of our handbooks, suppliers guides or special reports, please get in touch with us.