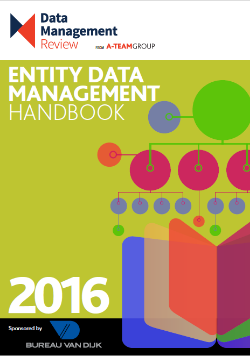 Entity Data Management Handbook – Second Edition
Entity data management is this year's hot topic as financial firms focus on entity data to gain a better understanding of customers, improve risk management and meet regulatory compliance requirements. Data management programmes that enrich the Legal Entity Identifier with hierarchy data and links to other datasets can also add real value, including new business opportunities, but they are not always easy to achieve in the face of legacy systems, oncoming regulation and limited resources.
A-Team Group discusses the problems and potential of entity data in its latest Entity Data Management Handbook, which covers everything you need to know to run a successful entity data management programme delivering significant operational and business benefits.
Download the handbook to learn more about:
The Legal Entity Identifier
Regulation requiring entity data
Sourcing entity and hierarchy data
Approaches to entity data management
Emerging entity data quality technologies
Critical entity data for client onboarding
Benefits and business opportunities
If you are interested in sponsoring or advertising in one of our handbooks, suppliers guides or special reports, please get in touch with us.