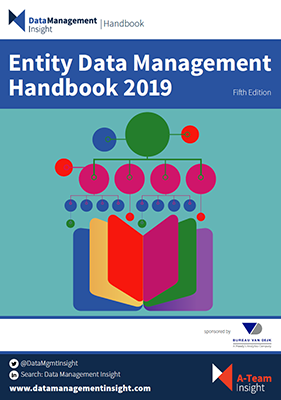 Entity Data Management Handbook – Fifth Edition
Welcome to the fifth edition of A-Team Group's Entity Data Management Handbook, sponsored for the fourth year running by entity data specialist Bureau van Dijk, a Moody's Analytics Company.
The past year has seen a crackdown on corporate responsibility for financial crime – with financial firms facing draconian fines for non-compliance and the very real risk of serious reputational damage due to breaches of sanctions, KYC and AML rules and regulations. The pressure is on to ensure your organisation's entity data, sourcing, management and application are unassailable.
This handbook tells you everything you need to know: from a definition of the data, to how to ensure data quality and implement strong data management. It also details the LEI, regulations requiring entity data, business use cases, and the benefits of successful entity data management beyond compliance. It explores the challenges and solutions of entity data, and outlines technology options that can support development programmes and deliver increasingly efficient, fast and accurate entity data management.
The handbook also focuses on regulations requiring entity data and the challenges and opportunities of entity data applications including client onboarding, Know Your Customer (KYC), Anti-Money Laundering (AML), sanctions screening and risk management.
Download the handbook to:
Discover why entity data is central to a successful KYC strategy
Catch up with the latest legal entity identifier (LEI) developments
Learn about the growing importance of hierarchy and ultimate beneficial ownership (UBO) data
Explore the most appropriate technology solutions for your business
Update your knowledge of the regulatory requirements for entity data
If you are interested in sponsoring or advertising in one of our handbooks, suppliers guides or special reports, please get in touch with us.