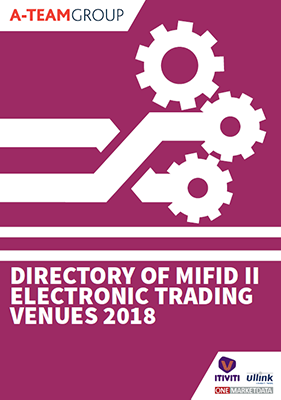 Directory of MiFID II Electronic Trading Venues 2018
The inaugural edition of A-Team Group's Directory of MiFID II Electronic Trading Venues 2018 offers a guide to the European landscape resulting from new market structure introduced by the January 3, 2018 implementation of Markets in Financial Instruments Directive II (MiFID II). The directory provides detailed profiles of more than 70 venue operators and their respective trading platforms, helping firms understand existing and newly created Multilateral Trading Facilities (MTFs) and Organised Trading Facilities (OTFs), the latter set up to increase transparency across over-the-counter (OTC) markets.
The directory will be expanded after the September deadline for the identification of Systematic Internalisers (SIs) under MiFID II with the addition of details of SIs. A-Team also plans to publish a companion directory this summer that will list data feeds operated by new execution venues, as well as Approved Publication Arrangements (APAs) and Approved Reporting Mechanisms (ARMs) operating under the regulation.
Download the directory to find out more about:
Electronic execution venues under MiFID II
MiFID II impacts on trading infrastructure
Features of individual trading venues
Business models and target audiences
Instruments traded by each venue
If you are interested in sponsoring or advertising in one of our handbooks, suppliers guides or special reports, please get in touch with us.