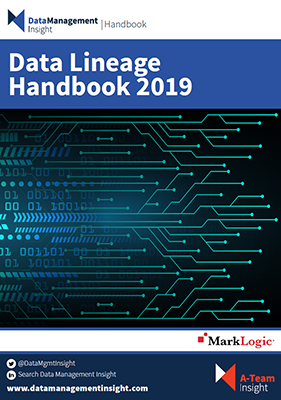 Data Lineage Handbook 2019
Welcome to our latest handbook on data lineage, a critical concern for data managers working to achieve regulatory compliance, deliver operational gains, and provide meaningful value to the business.
The handbook covers the complete scope of data lineage, with a view to helping you win management buy-in and budget, decide whether to build or buy a solution, and take a best practice approach to deployment. It also considers suitable technology tools to build out lineage, and the potential of innovative technologies to increase automation, support sustainable lineage and identify previously unseen and potentially rich data applications.
The benefits of data lineage described in the handbook span operations, business and regulatory compliance, and touch on the real possibility of using lineage to support data-driven business strategy and uncover new business possibilities.
A roundtable discussion hosted by A-Team Group, and including the handbook's sponsors, emphasises the importance of data lineage for firms in capital markets, as well as the challenges and opportunities of implementation.
Download the handbook to find out more about:
The critical importance of data lineage
Regulatory requirements for lineage
How to select a technology solution
How to build an effective framework
Potential business and operational gains
If you are interested in sponsoring or advertising in one of our handbooks, suppliers guides or special reports, please get in touch with us.