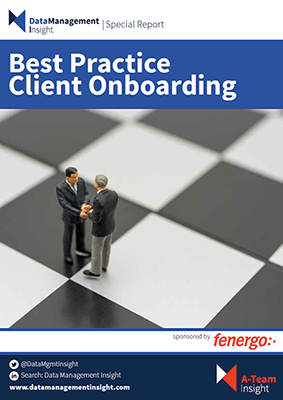 Best Practice Client Onboarding
Client onboarding is central to the success of banks, yet it continues to present challenges and the benefits of getting it right are difficult to achieve. The challenges arise from siloed systems, manual processes and poor entity data quality. The potential benefits of successful implementation include excellent client experience, improved client acquisition and loyalty, new business opportunities, reductions in costs, competitive advantage, and confidence in compliance.
With so much at stake for both traditional and challenger banks, this special report discusses the importance of onboarding, the need for change, the challenges of getting it right, and the approaches and shifts in internal culture that can deliver success.
It also reviews innovative tools and technologies that support development of automated, effective and compliant client onboarding.
Download the special report to find out more about:
The importance of client onboarding
How to tackle the challenges of implementation
Innovative tools and technologies
Opportunities of a successful solution
A practitioner's view of onboarding
If you are interested in sponsoring or advertising in one of our handbooks, suppliers guides or special reports, please get in touch with us.