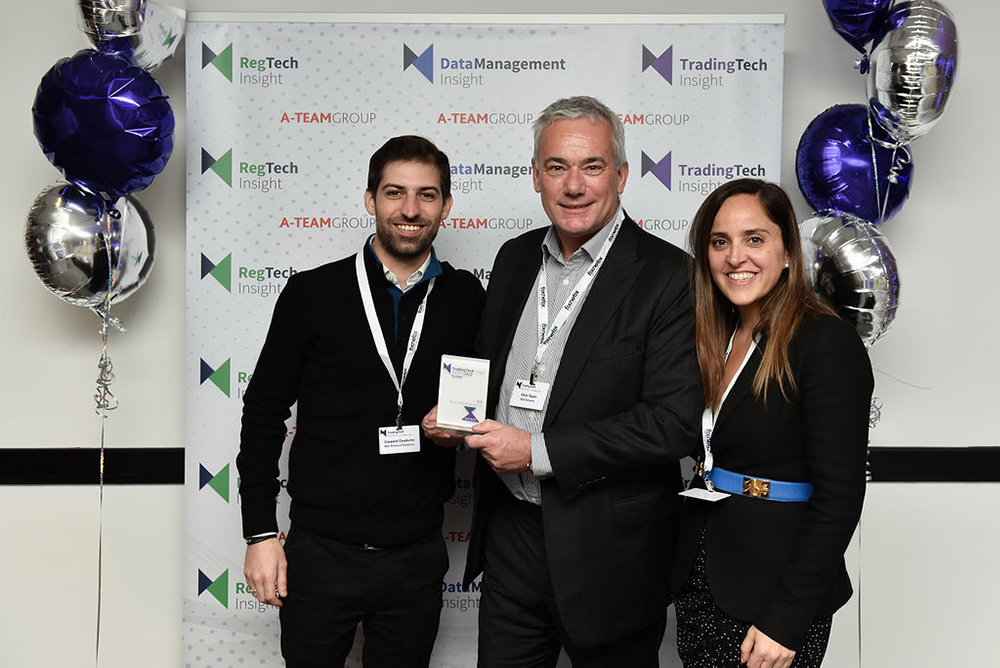 Congratulations to the winners of A-Team Group's 2019 TradingTech Insight (TTI) Europe Awards. The awards were celebrated during a lively drinks reception hosted by A-Team president and chief content officer Andrew Delaney after the close of the company's TradingTech Summit in London on February 27, 2019.
The awards recognise excellence in trading solutions and services for capital markets and focus on vendors providing exceptional trading infrastructure, trading technology, and data solutions. There are also awards for consultancies dedicated to market data and trading technology, and a special industry award for fintech innovation sponsored by network, cloud and hosting provider BSO.
Delaney commented: "This year's TTI Europe Awards received a large number of high-quality entries. The winning organisations demonstrate the innovation in trading technology that is helping trading organisations maximise their potential while remaining compliant."
Award categories this year ranged from Best Low-Latency Data Feed to Best Machine-Readable News Supplier, Best Alternative Data Provider, Best Market Data Provider, Best Trading Analytics Platform, Best Transaction Cost Analysis Tool for Best Execution, Best Market Access Gateway, Best Proximity Hosting Data Centre, Best Trading Infrastructure Monitoring Platform – and more!
Nominations for the awards highlighted key players in particular categories, while final votes for the winners were cast by members of our TTI community. Thank you to every organisation that entered the awards and to all our readers who voted for their preferred trading technology providers.
Best Low Latency Data Feed – Managed: QuantHouse
Best High Performance Data Feed Handler – Software: Redline Trading Solutions
Best High Performance Market Access Solution: Vela
Best Machine-Readable News Supplier: Dow Jones Newswire
Best Trading Analytics Platform: Itiviti AB
Best Cloud-Based Trading Environment: IPC Systems
Best Trading Infrastructure Monitoring Platform: Corvil
Best Managed Services for Trading: Fixnetix
Best Cloud-Based Data Solution: BSO
Best Transaction Cost Analysis (TCA) Tool for Best Execution: OneMarketData
The BSO Award for FinTech Innovation: OpenFin
Best Specialist Market Data Consultancy: 3d innovations
Best Broker-Supplied Algorithm Suite: Deutsche Bank Autobahn
Best Electronic Agency Broker Execution: Bloomberg Tradebook
Best Sell-Side EMS: TradingScreen
Best Sell-Side OMS: Horizon Software
Best Trade Reconstruction Solution for Best Execution: Big XYT
Best Pre-Trade Risk Controls Provider: Nasdaq TradeGuard
Best Market Access Gateway: Instinet
Best Proximity Hosting Data Centre Operator: Equinix
Best Time-Stamping/Latency Measurement System: SolarFlare
Best Specialist Trading Technology: BestExHub
Best Market Data Provider: Bloomberg
Best Buy-Side OMS: Charles River Development
Best Trading and Risk Management System for Post Trade: Satori by Communytek
Best Low Latency Data Feed – Direct : Algo Logic
Best Consolidated Market Data Feed: Refinitiv – Elektron Real-Time
Best High Performance Data Feed Handler – Hardware: Activ Financial
Best Alternative Data Provider: Market EarlyBird
Best Market Data Inventory Platform : TRG Screen
Best Buy-Side EMS: FlexTrade
Best Smart Order Routing System: Fidessa Smart Order Routing
Best High Performance Network Services: Arista Networks/Metamako
Subscribe to our newsletter