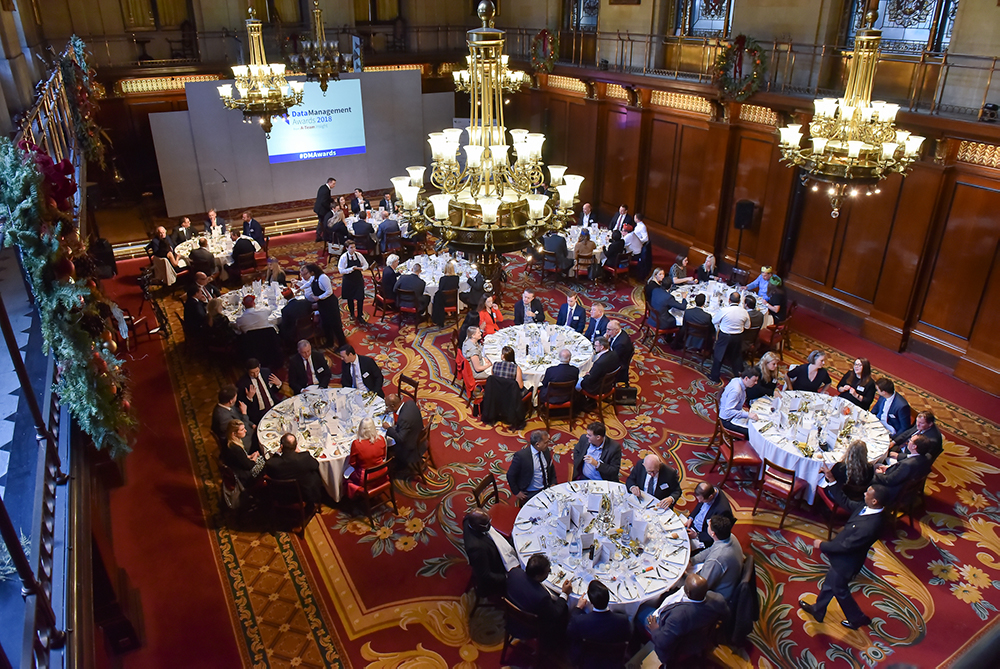 A-Team Group has announced the winners of its 2018 Data Management Awards. The annual awards, now in their sixth year, are designed to recognise leading providers of data management solutions, services and consultancy to capital markets participants. See the full list of winners below.
The awards were hosted by Sarah Underwood, Editor of A-Team's Data Management Review, and presented by guest speaker John Sergeant, a renowned political journalist and broadcaster, after a celebratory lunch attended by over 100 guests at Merchant Taylors Hall in the City of London.
Award categories ranged from best sell-side and buy-side enterprise data management platforms to managed services, corporate actions, risk data aggregation, entity data, quality analysis, Know Your Client (KYC) and client onboarding, data governance, data lineage and regulatory data management. Award categories for data providers covered sell-side and buy-side reference data, corporate actions data and index data.
As well as solution categories, three editor's recognition awards were presented. Andrew Barnett, chief data officer at Legal & General IM, was presented with the award for best data management practitioner; Peter Moss, CEO at the SmartStream RDU, with the award for best data management vendor professional; and ASG Technologies with the award for innovation in data management.
Underwood said: "Congratulations to the winners of this year's A-Team Group Data Management Awards and thank you to everyone who voted. We had a large number of nominations and votes across all categories reflecting the criticality of excellent data services and data management solutions in capital markets."
A-Team Group 2018 Data Management Awards
Best Sell-Side Enterprise Data Management Platform – Asset Control
Best Buy-Side Enterprise Data Management Platform – NeoXam, DataHub
Best Sell-Side EDM Managed Services Solution – SmartStream RDU
Best Buy-Side EDM Managed Services Solution – State Street Corporation, DataGX
Best Corporate Actions Solution – AIM Software, GAIN Corporate Actions
Best Risk Data Aggregation Platform – Moody's Analytics
Best Reference Data Provider to the Sell-Side – SIX
Best Reference Data Provider to the Buy-Side – Refinitiv
Best Entity Data Solution – Bureau van Dijk, Orbis
Best Corporate Actions Data Provider – Exchange Data International
Best Index Data Provider – RIMES Technologies
Best Graph Database Provider – Neo4J
Best Smart Lake Provider – Cambridge Semantics
Best Data Discovery Provider – Global IDS
Best Data Preparation Provider – Trifacta
Best Data Quality Analysis Tool – Solidatus
Best KYC & Client On-Boarding Solution – Fenergo, Client Lifecycle Management
Best Data Governance Solution – Collibra
Best Data Lineage Solution – MarkLogic, Operational and Transaction Enterprise NoSQL Solution
Best Regulatory Data Management Platform – SteelEye
Best Big Data Analytics Solutions Provider – SAS
Best Proposition for AI, Machine Learning and Data Science – IBM Watson
Best Consultancy in Data Management – Deloitte
Editor's Recognition Award for Best Data Management Vendor Professional – Peter Moss, CEO at the SmartStream RDU
Editor's Recognition Award for Best Data Management Practitioner – Andrew Barnett, Chief Data Officer at Legal & General IM
Editor's Recognition Award for Innovation – ASG Technologies
Subscribe to our newsletter