RegTech Insight Awards – Europe 2022 Winners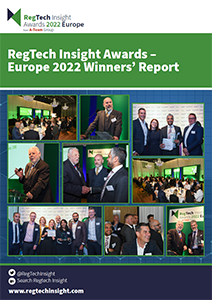 Congratulations to the winners of A-Team Group's second annual RegTech Insight Awards – Europe 2022.
The awards recognise both established solution providers and innovative newcomers
providing RegTech solutions that throughout the year have successfully improved firms'
ability to effectively respond to evolving and ever more complex regulatory requirements
across the global financial services industry.
The winners of this year's RegTech Insight Awards – Europe were presented by guest speaker Terry Waite CBE, and hosted by A-Team's Mike O'Hara at a lively awards lunch at Glaziers Hall in London on 26 May, 2022.
The awards included more than 30 categories of RegTech solutions ranging from Best Regulatory Reporting Solution to Best Sanctions Management Solution, Best ESG Regulatory Solution, Best Know Your Customer (KYC) Solution, Best AI Solution for Regulatory Compliance, Best Trade Surveillance Solution and more!
An editor's recognition award for RegTech Industry Professional of the Year was presented to David Cowland, Head of Business Consulting, Eliga.
Thank you to all the vendors that entered A-Team Group's RegTech Insight Awards – Europe 2022, to our RegTech Insight community that voted for its favoured solutions, and to our independent, expert advisory board that worked in collaboration with our editorial team to select this year's winners.
Finally, our compliments to all the award winners, who should be deservedly proud of their achievement in such a closely fought and highly competitive contest.
Download the Winners Report to check out all of our deserving winners.
If you are a solution provider and you would like to be alerted for when the 2023 awards are open, enter your details here, if you wish to be considered for our USA awards visit here or our APAC awards here.
A selection of videos from some of our happy winners.
To find out who else has won in our 32 categories,

download the report

.
RegTech Industry Professional of the Year - David Cowland, Head of Business Consulting, Eliga
David has spent nearly 4 decades working in financial services, covering Retail, Corporate and International banking, as well as Wealth and Asset Management, in both business and technology roles. He is currently working in an advisory capacity across the RegTech industry as an independent expert.
Best Solution for Sanctions Management - Refinitiv, an LSEG business

Refinitiv, an LSEG (London Stock Exchange Group) business, is one of the world's largest providers of financial markets data and infrastructure. With $6.25 billion in revenue, over 40,000 customers and 400,000 end users across 190 countries, Refinitiv is powering participants across the global financial marketplace. We provide information, insights, and technology that enable customers to execute critical investing, trading and risk decisions with confidence. By combining a unique open platform with best-in-class data and expertise, we help to drive performance, innovation and growth for our customers and partners.
Best Solution for Records Retention - LIST, an ION company

LIST, an ION company, is a leading financial technology provider to the global trading community, including trading venues, market makers, brokers, asset managers, risk managers and compliance officers. LIST's innovative turnkey products and delivery, driven by customers' needs, play a key role in supporting successful business growth in today's volatile times. Continuous innovation and client partnerships around the globe have built trust and reliance on LIST's unique real-time and data analytics capabilities.
Best Solution for Benchmark Regulation – SIX

SIX operates and develops infrastructure services for the Swiss and Spanish Stock Exchanges, for Post-Trade Services, Banking Services and Financial Information with the aim of raising efficiency, quality and innovative capacity across the entire value chain of the Swiss and Spanish financial centers. The company is owned by its users (120 banks). With a workforce of 3,685 employees and a presence in 21 countries, it generated operating income of CHF 1.5 billion and Group net profit of CHF 73.5 million in 2021.
Best Analytics Solution to Address Capital Requirements/Liquidity Risk – SmartStream

SmartStream has become a trusted partner that deliver automation and control to the world's leading capital markets, buy-side firms and corporations. The demands of the industry particularly at times of transformation has allowed us to grow, introducing new solutions and win multiple industry accolades.
SmartStream's solutions and services span the transaction lifecycle and incorporate the latest AI and machine learning technologies. These can be accessed in a variety of ways, for example, via APIs, or deployed as managed services and cloud environments.