RegTech Insight Awards - USA 2022 Winners
16th November 2022
#RTIAwards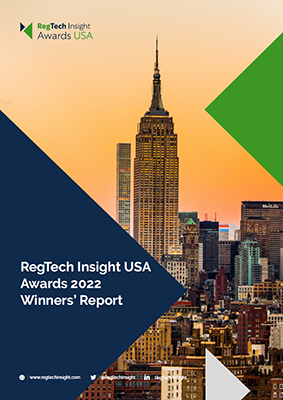 A-Team Group announced the winners of its acclaimed RegTech Insight Awards – USA 2022 during a lively drinks reception following A-Team Group's RegTech Summit New York.
The awards recognise both established solution providers and innovative newcomers providing RegTech solutions that have successfully improved firms' ability to respond to evolving and ever more complex regulatory requirements across the global financial services industry.
This year, the awards included 30 RegTech categories ranging from Best North America RegTech Start Up to Best Reporting Solution for the Consolidated Audit Trail, Best KYC Data Solution, Best Transaction Cost Analysis Solution for Best Execution, Best Risk Calculation Engine for Regulatory Compliance, Best Trade Surveillance Solution, and more!
Congratulations to the well-deserved winners and thank you to all the vendors that entered the awards, our RegTech Insight community that voted for its favourite solutions, and our independent, expert Advisory Board that worked in collaboration with our editorial team to select this year's winners.
Download the Winners Report to check out all of our deserving winners.
If you are a solution provider and you would like to be alerted for when the 2023 awards are open, enter your details here, if you wish to be considered for our European awards visit here or our APAC awards here.