RegTech Insight Awards - APAC 2021 Winners
29th November 2022
#RTIAwards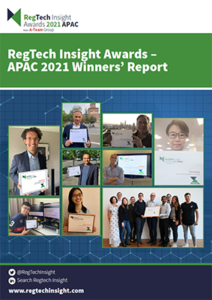 Congratulations to the winners of A-Team Group's first RegTech Insight Awards – APAC 2021, and thank you to our readers for nominating and voting for their preferred RegTech solutions providers. Thank you, too, to the RegTech Insight APAC advisory board for its valuable input to the awards.
The RegTech Insight Awards – APAC recognise both established solution providers and innovative newcomers. They highlight RegTech solutions that throughout the year have successfully improved firms' ability to effectively respond to evolving and ever more complex regulatory requirements across the global financial services sector.
The award winners were named on 28 October 2021, with categories ranging from best compliance as a service solution to best regulatory reporting solution, best data solution for KYC, best cloud solution for regulatory compliance, best regulatory change management solution, best ESG regulation solution, and more.
An editor's recognition award was also announced, with Jamil Ahmed, Chief Compliance Officer at HSBC Singapore, receiving an award for best RegTech practitioner.
Download the Winners Report to check out all of our deserving winners.
If you are a solution provider and you would like to be alerted for when the 2022 awards are open, click here.
Once again, thank you to everyone who took part in this year's RegTech Insight Awards – APAC, and to working with you and celebrating excellence in RegTech again in 2022.
A selection of videos from some of our happy winners.
To find out who else has won in our 41 categories,

download the report

.
Editor's Recognition Award for Best RegTech Practitioner - Jamil Ahmed, Chief Compliance Officer, HSBC
Jamil Ahmed is the Chief Compliance Officer at HSBC Singapore. As part of his role, he is responsible for all aspects of compliance from AML/CFT to regulatory compliance and conduct across all lines of businesses. He is a member of various industry taskforces and initiatives across Singapore focusing on anti-money laundering, terrorist financing, sanctions and fraud. Jamil is also a Steering Group member of Singapore's AML/CFT Industry Partnership (ACIP) and other taskforces/working groups established through the Association of Banks in Singapore (ABS) covering various financial crime themes. He is a tech enthusiast and a keen explorer on how technology implementations from simple forms of analytics to more complex algorithms can improve compliance processes.
Best Data Management Solution for Buy-Side Regulatory Compliance - SmartStream

SmartStream is a recognised leader in financial transaction management solutions that enables firms to improve operational control, reduce costs, build new revenue streams, mitigate risk and comply accurately with regulations. By helping its customers through their transformative digital strategies, SmartStream provides a range of solutions for the transaction lifecycle with artificial intelligence and machine learning technologies embedded – which can also be deployed in the cloud or as managed services.
Best Vendor Solution for Tax Compliance AND Best Vendor Solution for the Common Reporting Standard (CRS) - Regnology

Regnology is a leading international provider of innovative regulatory, risk, and supervisory technology solutions, of AEOI and tax reporting products, as well as of services along the Regulatory Value Chain for financial services. We serve more than 7,000 financial services firms with reporting solutions. At the same time, we enable more than 50 regulators and tax authorities to collect data from 34,000 firms in 60 countries.
Best Vendor Solution for Final Basel III - Moody's Analytics

Moody's Analytics provides financial intelligence and analytical tools to help business leaders make better, faster decisions. Our deep risk expertise, expansive information resources, and innovative application of technology help our clients confidently navigate an evolving marketplace. We are known for our industry-leading and award-winning solutions, made up of research, data, software, and professional services, assembled to deliver a seamless customer experience. We create confidence in thousands of organizations worldwide, with our commitment to excellence, open mindset approach, and focus on meeting customer needs.
Best Risk Calculation Engine for Regulatory Compliance - KYC Portal

Aqubix is an experienced solution provider with one clear objective; to deliver the best customer service and have earned a reputation for offering a flexible approach with years of experience in business analysis and technical architecture. We have taken a number of innovative products to market however our flagship product is KYC Portal – a real-time, risk driven Client Lifecycle Management platform with full ownership of policy automation – increasing operational efficiencies and redefining business relationship outreach.
Best Compliance as a Service Solution - LIST

LIST is a leading financial technology provider to the global trading community, including trading venues, market makers, brokers, asset managers, risk managers and compliance officers. LIST's innovative turnkey products and delivery, driven by customers' needs, together with a skilled and determined young team play a key role in supporting successful business growth in today's volatile times. Continuous innovation and client partnerships around the globe have built trust and reliance on LIST's unique real-time and data analytics capabilities.